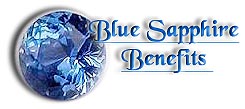 BLUE SAPPHIRE NEELAM GEMSTONE BENEFITS
Wearing a Neelam Blue Sapphire Gemstone Birthstone can bring the wearer wealth, fame, a good name, health, happiness, prosperity, a long life, mental peace and Newer opportunities .
Neelam Blue Sapphire is an Excellent Gemstone for Aquarius / Capricorn Rashi Persons.
Wearing a Genuine Neelam Blue Sapphire Makes a Person Hardworking and Disciplined.
Wearing a blue sapphire protects against danger, travel problems, terror, thieves, accidents.
It can cause financial fortunes to change for the better, help with a person's career, and make the wearer rich. It can free one of mental anxiety.
If the planet Saturn/ Sani happens to be weak or Delapilated ( neech ) according to your horoscope, then the gemstone blue sapphire is your perfect gemstone for you.
It helps make one detached, and protects against envy. It can be worn for good luck and for protection against evil spirits.
Blue sapphire is the birthstone for the month of September. Blue Sapphire is also recommended for 5th, 23rd and 45th wedding anniversary.
Blue sapphire is a lucky gem for all those who are born under Number 8. Saturn rules this number. People born on 8th, 17th, and 26th of any month are governed by this number.
People in business of export and import, transport Cargo, Automobiles , production of minerals , Iron ore , spare parts, petroleum , Iron and Steel or Similar Businesses related to Planet Saturn should definitely wear a Blue Sapphire/Neelam Gemstone as it will give them Substantial Business growth and new Opportunities .
Also this is a Very good gemstone for Persons in the LAW field like magistrates and law practitioners for the success in their profession.
Persons who cannot afford to Buy a Blue Sapphire ( neelam ) can wear its Substitute BLUE TOPAZ gemstone.
There is a belief that if a Blue Sapphire ( neelam ) becomes favorable for you then it takes the person to Fantastic heights of success in his career.
ALL BLUE SAPPHIRE NEELAM GEMSTONES COME WITH A GEMSTONES LABORATORY CERTIFICATE OF AUTHENTICITY FROM A REPUTED GEMSTONE LABORATORY .
Copyright - Amit Lamba - Mumbai INDIA
For Expert Name Change Numerology Astrology Horoscope Guidance for Business , Job Marriage ,
Contact Best Astrologer Numerologist and Vastu Expert

Mr Amit Lamba on 9819015736 / 9324012326 .
Yellow blue Sapphire, neelam , blue Topaz , Gemstone , Mumbai , Bombay , India ,Birthstone, treated yellow sapphires, ceylon sapphires, synthetic yellow sapphires, natural yellow sapphire, buy yellow sapphire in mumbai, buying yellow sapphire ,GEMSTONES, Lucky Stones , GEMS GUIDANCE, Gemologist , RATNA ADVICE ,Gemstone Consultant , Birth Stone , Gems Advice , Gems Expert , ENERGIZED GEMSTONE - Mumbai, India , Precious Stones , Semi Precious , GEMS, Lucky Gems , Birth stones , Lucky Stones . Gemstones India, Gemstones Mumbai, RATTAN, RATTAN India, ASTROLOGY India, Neelam , Pukhraj , Shani , Pearl, Gemologist , Ruby, Manik ,Red Garnet , Pearl, Moti, Moonstone, Emerald, Panna ,Aquamarine, Zade, Diamond, Heera White Sapphire, Blue Sapphire ,Opal, Lucky Gems , Lucky Stones.